June 9, 2010
Lessons from the Weekend
Last weekend I climbed Liberty Cap and Mount Watkins in Yosemite National Park with my brother and his wife. It was a great trip, the waterfalls were going crazy, the weather was sunny and not too hot, and the nights not too cold. A good (late) start to the season.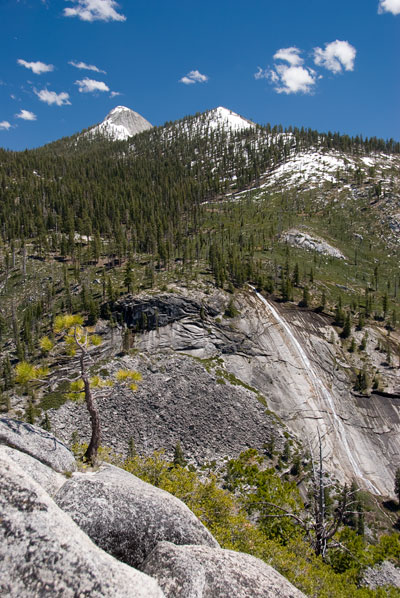 While we were making our way up Liberty Cap I realized that the coloring of the my map was too simple and somewhat misleading. Here's a snap of the Liberty Cap area from the v1 tiles (which are the published ones as I write this):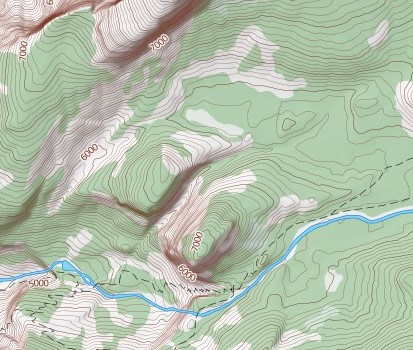 We left the trail around the '6000' contour label and headed up the gully between Mount Broderick and Liberty Cap. We then curled around and went up the broad gully on the north side of the dome. So what's the problem with the map? It shows most of the route up the north side as being in the forest when in fact it was easy traveling over mostly rock. In coloring the land-cover I was ignoring the density of the vegetation. I spent some time last night working on some styling for this data and ended up with this: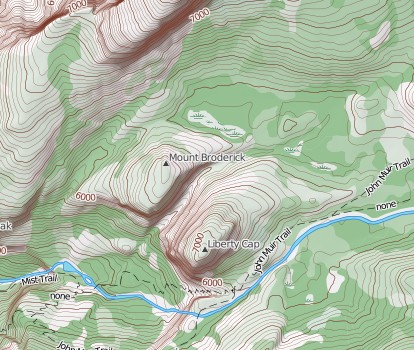 This is a better representation of reality and is superior for trip planning (i.e. not going through dense forest if possible). As you can see there are other styling elements added as well.
The same problem arose on the Mount Watkins hike. Here's the current map: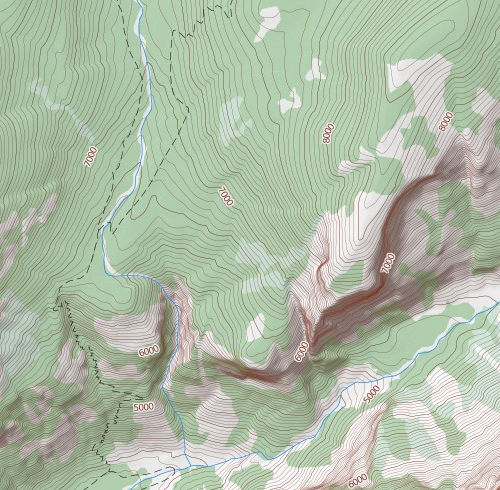 It shows the Snow Creek Trail (the steepest trail out of the valley) climbing through green, which could indicate shade while in reality this route is mostly exposed to the sun. Also, the cross country travel is pretty straightforward once leaving the trail on the east side of Snow Creek. Take a look at the v2 prototype map: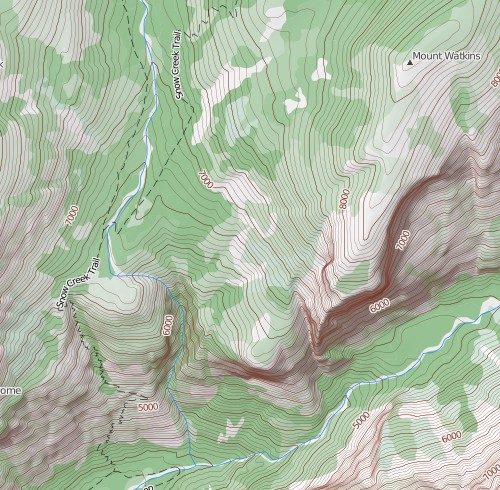 Unfortunately I've only applied these changes to the Yosemite land cover data at this time. It'll take a little bit of work and a re-import of the vegetation data to do it across the whole Sierra Nevada, but I feel like it's a big improvement in the usability of the map. I'll close this post with a few other photos from the weekend. First, the top of Nevada Falls: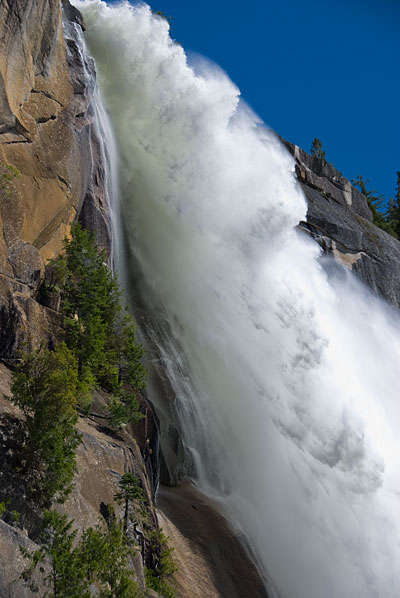 Because of the late spring snow and cool temperatures the rivers are just now reaching their peak flow. Next, a couple from the Mount Watkins hike: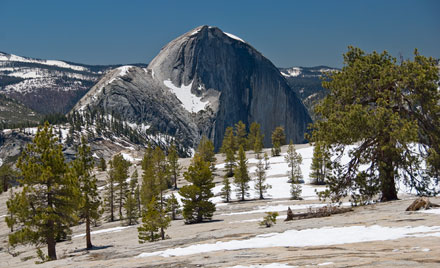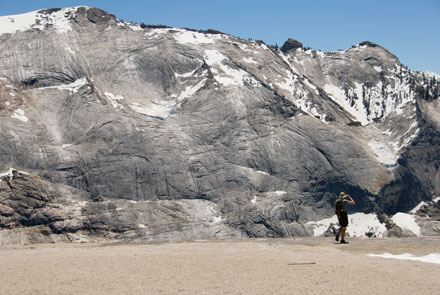 I think the Snow Creek Trail has the best views of Half Dome in the valley. And the summit of Mount Watkins has the best views of Clouds Rest. Two highly recommended hikes.