June 27, 2010
v2 SPS Tiles Posted
I've posted new tiles with the following changes:
Whiter glaciers/permanent snow with blue contour lines. I talked about this in a previous post.
Change forest color depending on density (only in Yosemite and Sequoia/King's Canyon NP so far). I also mentioned this in a previous post.
Non-SPS peak names. Discussed earlier as well.
Pass names.
Trail names, mostly in the NPs.
Removed many bogus 'lakes' which were actually mischaracterized permanent snow.
Added styling for scree, talus, and meadow/marshes.
Changed font for SPS peaks to slightly larger, darker, and italic to set them apart from non-SPS peaks.
Not a tile change, but I added UTM coordinate display in lower right.
Here's an image showing most of these new features: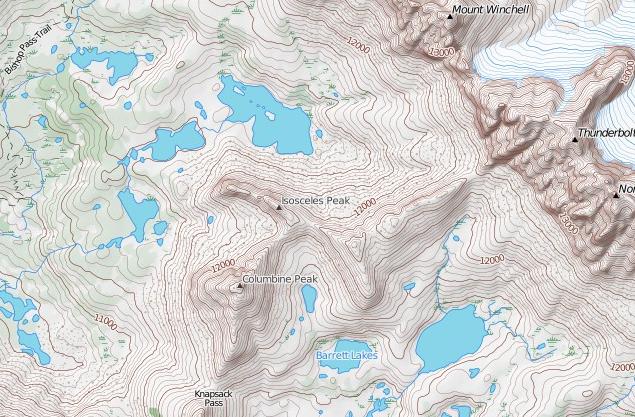 Note that I screwed up the land cover in Yosemite National Park by accidentally styling it with two sets of landcover data. Obvious side effects of this are that the whole area is generally too green and the permanent snow sections look funny. It will take me a few days to fix this.
Enjoy the new tiles!